Veterans' mental health services benefit from RAF donation
Local mental health services for armed forces veterans have received a generous donation from the Royal Airforce in Waddington, following a charity fundraising day.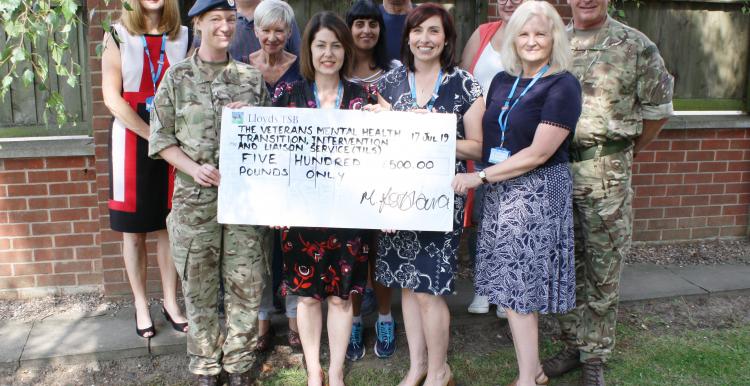 Lincolnshire Partnership NHS Foundation Trust's (LPFT) veterans' service was gifted £500 following RAF Waddington's 'airfield riding day' in June, hosted by 2503 Squadron (County of Lincolnshire) RAF Regiment Reserves.
Over 200 people attended with 130 motorbikes riding along a 4.7 mile circuit. The event raised £7,500 in total for charity and this was distributed across various charities, including veterans' support through LPFT's Charitable Funds.
Sgt Hayley Coupland, 2503 Sqn, RAF Waddington, Lincolnshire said:
"As a reserves squadron we recruit from a 50 mile radius and that includes ex-regulars and civilians."
"There is a strong commitment to supporting the physical and mental wellbeing of serving personnel and to those who leave the service. By making this small donation we hope it goes some way towards making an impact for the veterans' community."  
Flt Lt Mike O'Hara and Sgt Hayley Coupland presented a cheque to the team in July.
This donation will help fund the veterans' mental health conference that will be hosted in November, to help engage with the veterans' community and raise awareness of mental health problems in people who have served in the armed forces.
Paula Jelly, Regional Veterans' Lead, said:
"We are overwhelmed by this very kind donation from the RAF."

"It is important that we continue to raise awareness and encourage veterans to come forward and talk about their mental health."
For more information about veterans' mental health services please visit the Trust's website www.lpft.nhs.uk/veterans-mental-health.