Help shape the future of Lincolnshire's new community mental health rehabilitation service
Help shape the future of Lincolnshire's new community mental health rehabilitation service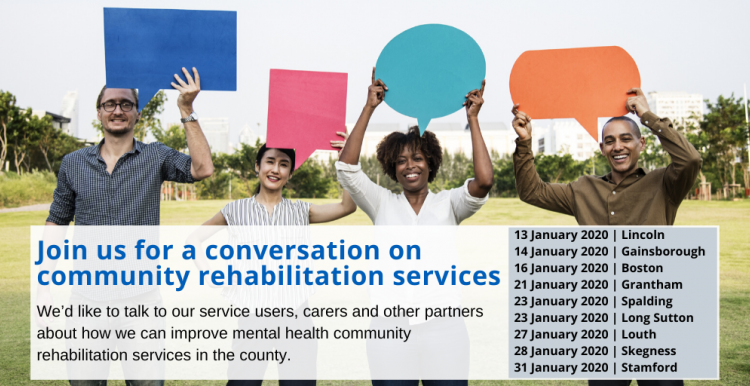 Members of the public are being invited to attend engagement sessions to share their views on a new community mental health rehabilitation service for Lincolnshire.
Lincolnshire Partnership NHS Foundation Trust (LPFT) would like to talk to service users, carers, and the general public to hear their views, experiences and ideas, to help LPFT to provide and develop the best community mental health rehab support for people now and in the future.
Community mental health rehabilitation services support people who do not need to be in hospital, but who still require specific mental health rehab support. LPFT's new service will help to bridge the gap between mental health inpatient wards and current community mental health services, and will provide an alternative to hospital admission.
Eve Baird, Associate Director of adult inpatient and urgent care at LPFT explained how important it is to hear people's experiences to help develop this new service.
She said: "We would love to hear what people think of existing rehab services, their views on how we could make things better, and what is most important to people who are already using services, or who may use them in the future. These engagement events are a real opportunity to help shape new developments within community mental health rehabilitation services in Lincolnshire."
Dates of the engagement events:
13 January 2020, 10.00am-12.00pm  Alive Church, 22 Newland, Lincoln, LN1 1XD
14 January 2020, 10.00am-12.00pm  X-Church Café, Ashcroft Road, Gainsborough, DN21 1BY
16 January 2020, 10.00am-12.00pm  Len Medlock Voluntary Centre, St Georges Road, Boston, PE21 8YB
21 January 2020, 10.00am-12.00pm Jubilee Church Life Centre, 1-5 London Road, Grantham, NG31 6EY 23 January 2020, 10.00am-12.00pm Tonic Health, 6 Broadgate House, Westlode Street, Spalding, PE11 2AF
23 January 2020, 2.00pm-4.00pm St Mary's Church Hall, Market Place, Long Sutton, PE12 9JJ
27 January 2020, 10.00am-12.00pm Trinity Centre, Eastgate, Louth, LN11 8DJ
28 January 2020, 1.00pm-3.00pm The Storehouse, North Parade, Skegness,  PE25 1BY
31 January 2020, 10.00am-12.00pm Stamford Arts Centre, St Mary's Street, Stamford, PE9 2DL
For further information or to book please contact Participation Coordinator, Sarah Cox via sarah.cox4@nhs.net.