Healthwatch Engagement Success - Life-saving equipment arranged for local lady…
We recently received some wonderful news in from our Information Signposting and Safeguarding Officer Julie Evans on a recent success for the Healthwatch team who have been able to help a local young woman with some life-saving equipment.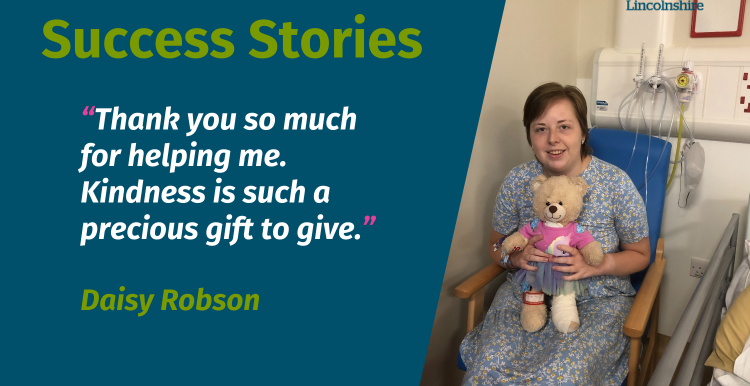 We recently received some wonderful news in from our Information Signposting and Safeguarding Officer Julie Evans on a recent success for the Healthwatch team who have been able to help a local young woman with some life-saving equipment.
Julie had been approached by the Lincs NHDS Support and Awareness Group in July - one of the many excellent support groups in the Healthwatch community networks across our county - to raise awareness of the plight of Daisy Robson who desperately needed a potentially life-saving portable suction unit.
Julie explains:
"The network of groups is a tried and tested system that works well for everyone. Support groups will contact us to alert to someone having an issue. Our Healthwatch team can then signpost, provide helpful information, or try to assist where we can. In this instance with Daisy we were able to provide direct support."
Having gained consent to release details following an in-depth conversation with Nichola Robson, Daisy's mother, Julie contacted the Clinical Commissioning Group who passed her request over to CHC Continuing HealthCare. In the meantime, she also reached out to the Children's Rapid Response, liaising with all teams and with Nichola to drive forward a solution.
It was pretty clear that there was a desperate need for this equipment and that Daisy was in and out of hospital frequently so this equipment could provide the vital difference in reducing the number of her admittances.
A formal request was made to the District Nursing Team and by 10th August the brilliant news came in that the equipment was on order. By 19th August the equipment had arrived from the Gainsborough District Nursing Team and discussions were soon underway with Julie and Nichola to arrange equipment training for the family.
Daisy has Left Temple Lobe Epilepsy, in addition to a number of other ongoing health concerns, and regularly suffers seizures, often on multiple occasions per day, making life incredibly challenging for her and for her family.
The epilepsy started out of the blue when Daisy was 19, and Nichola found her collapsed in the garden one afternoon.  It came as a huge shock to the family with Daisy seemingly until that point a healthy teenager who was keen on sports, even a cross country county champion, and with aspirations to become a P.E. Teacher. The diagnosis and change in her life quality from that day have been devastating.
Fast forward six years and the stark reality is that Daisy is currently taking around 50 tablets a day and five medications for epilepsy and every day is a challenge, with multiple visits to hospital and frequent nights in ICU.
Daisy now spends her time resting and watching TV but largely sleeping with constant bouts of tiredness. Seizures can occur at any time in any place, often severe in their form, so the family are on constant alert.   Both her parents Nichola and Roy are now full-time carers, having given up their work, and also have the support of a part time carer.
The acquisition of the portable life suction unit will make a tremendous difference to Daisy's family who have often been faced with frightening choking episodes and having to physically unblock Daisy's airways with their bare hands. It will also reduce the need to uproot Daisy and involve emergency services and the hospital.
Nichola explains:
"If Daisy has a seizure whilst eating then she can choke, and her airways can be blocked with food. We have had many instances where myself and my husband have had to clear her airways and it is terrifying when she is choking. It is not an easy or pleasant process, and the equipment is our best chance of removing the blockage quickly and keeping her alive. We have had to resuscitate Daisy, and it is a parent's worst nightmare.

"We would like to reduce the number of times we rush her to hospital, and for a young lady (Daisy is now 25) she has spent far too much time in ICU on life support already. Considering the challenges she faces Daisy has remained cheerful and her sweet nature has won everyone over at the hospital. We cannot thank them enough for the year-round support they have given Daisy, and us, but if we can and keep her safe at home then this will be a huge step forward for us.

"The seizures can happen at any time, often in multiple bouts, and there is rarely any warning. We are still trying to understand triggers, tiredness may be one, and Daisy occasionally has what we say is an intuitive aura, but mostly they occur without warning, and as a family we need to be as prepared as we can."
The family had been trying for over 18 months through their local GP and other local health services to try to find a way forward in relieving the pressure and obtaining a portable life suction unit.
Nichola added:
"After what felt like a very long time, we were eventually put in contact with Healthwatch Lincolnshire who were very proactive in reaching out to the right people to help us out.

"Julie was fantastic in actually listening to our situation and she understood how desperate we were for some help. She did make it clear there weren't any guarantees, but I think just knowing that someone was actively trying to find a solution was already a huge relief.

"There are no words to express how grateful we all are as a family to Julie and the team at Healthwatch but also the other health authorities that joined forces to find a solution, and of course to the district nursing team for kindly providing us with the unit. Thank you."
Daisy said:
"Thank you so much for helping me, kindness is such a precious gift to give."
Julie said:
"On speaking with Nichola I could appreciate the difficulties, with Daisy being admitted to hospital on a regular basis. To lessen her load, I suggested I make contact with people to see where/who the equipment could be sourced from. I couldn't make any guarantees, but I would try my best. 

"I am extremely happy that perseverance paid off for the family, and that they have now got the equipment in place, and I hope it makes a difference to Daisy and Nichola.
It is this kind of situation that makes for job satisfaction and that in some small way I can make a difference to assist in someone's home life and hopefully lessen hospital admittance."  ​