#Breakingthebias on International Women's Day (8 March)
Lincolnshire's female firefighters, Olympians, footballers, mechanics, lorry drivers, chief executives and mental health nurses are coming together this International Women's Day to encourage young people to #breakthebias.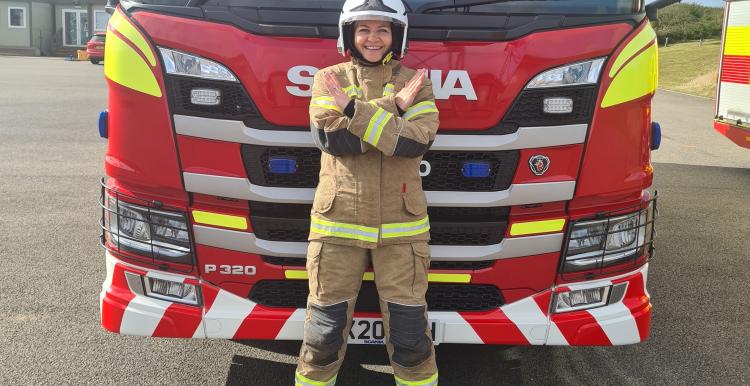 On Tuesday 8 March, mental health practitioners from Lincolnshire Partnership NHS Trust (LPFT) will be sharing stories and starting conversations in schools across Lincolnshire to educate and inspire young people about gender equality.
Lucy Harte, Educational Mental Health Practitioner from LPFT, comments:
"It is vital we start these conversations in schools, so young people know they can become anything they want to. For us, by celebrating women's achievements to challenging gender stereotypes and bias, we can make a huge difference in educating about gender equality. We know that has a huge impact in creating positive mental health."
Sophie Devenish, Team GB Olympic swimmer, adds:
"For me, it is about valuing our differences, pushing through our challenges and celebrating our successes. This day is a great opportunity for us to start conversations and for people to see us – in our professions – doing amazing things. I want to be the role model I wish I'd had as a young girl growing up! Life is a series of choices and my aim is to make the right choices to #breakthebias for women's equality"
Sarah Connery, Chief Executive of LPFT, comments: "Although more women are now getting to top management roles, we need to do all we can to #breakthebias and this is a perfect occasion to start a conversation. I want to show young people that anything is possible with hard work and determination."
Julia Whitfield, Watch Manager at Lincolnshire Fire and Rescue, adds:
"Gender stereotypes are still sadly a part of everyday life and women continue to be under-represented in the fire service. We need young people to know that a career as a firefighter is rewarding and challenging, but also about your own abilities and nothing else."
For more information or to access resources, visit www.lpft.nhs.net. For more information about becoming a firefighter, visit www.lincolnshire.gov.uk/lfr