"When will i be seen?" GP patient experience report
Over the past 5 years, Healthwatch Lincolnshire has consistently received patient comments, relating to the difficulties they are experiencing getting an appointment to see a GP.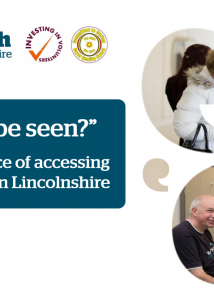 Healthwatch Lincolnshire is pleased to share with you our report 'When will I be seen' Patients experience of accessing GP Appointments which has now been published.
Key headlines
Whilst the National GP survey and the Healthwatch Lincolnshire (HWL) surveys all suggest that problems accessing appointments are not as widespread as thought, it is important to recognise there are some areas, where access to GP appointments is challenging e.g. East Lincolnshire (coastal)
1 in 4 patients told us having a delay in getting an appointment had an impact on them, with anxiety being the top reason.
1 in 3 patients told us they have used another service, when they could not get a GP appointment, with A&E being amongst the top places patients go to.
Patients told us the telephone was the most popular way of contacting their surgery.  However, from patient feedback to HWL, difficulty getting through on the telephone to the reception is the top cause of frustration.
Throughout the survey, patients have placed an emphasis on receiving continuity of care and that may include seeing a named GP or other medical professional e.g. diabetic nurse. For patients who place particular importance on this, it could well have a negative and far reaching impact on patient experience, including such things as access to GP appointments.
There is an appetite from patients to access services, such as text messaging and video conferences.  Lessons learnt and best practice could be transferred from GP to GP service, across the county.