Lyndsay Khan wins Mental Health Nurse of the Year for work with veterans
A mental health nurse and ex-veteran from Leasingham in Lincolnshire has won Mental Health Nurse of the Year at the national British Journal of Nursing Awards, which celebrate excellence in nursing and patient care.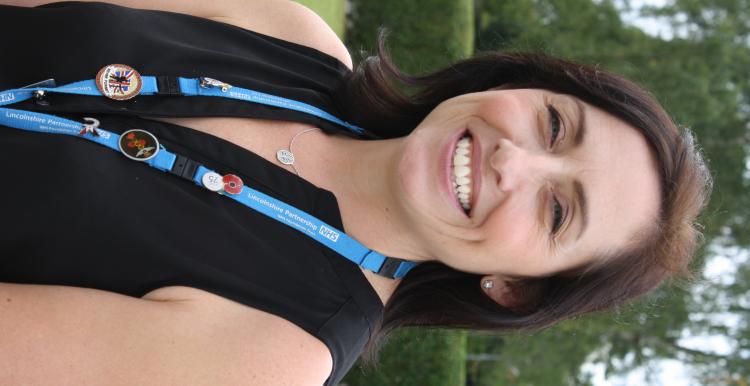 Lyndsay Khan, Team Manager for Lincolnshire Partnership NHS Foundation Trust's (LPFT) Veterans' Mental Health Transition, Intervention and Liaison Service (TILS) was elated to find she had won at the virtual ceremony last Friday (28 August).
Lyndsay has been a Mental Health Nurse for over 20 years, serving 14 years in Princess Mary's Royal Air Force Nursing Service before joining LPFT. Since joining LPFT, Lyndsay has consistently delivered a high level of care to veterans and their families, acting with a compassion borne out of her own experience as a veteran transitioning back into the community.
She has led on several important projects, raising awareness of mental health problems in the armed forces community, to ensure that veterans experiencing mental ill health access vital support. Lyndsay has also contributed to charitable work which supports the armed forces community, including a sponsored 'March in March' event in Lincoln which she organised earlier this year.
Lyndsay was delighted to find she had won and said:
"It feels unbelievable but utterly amazing to have won this award. Having been a mental health nurse for over 20 years, to get such recognition for doing a job I love is just fantastic.

"I feel very lucky to work for such an amazing Trust; the support and inspirational leadership I have received from my Manager, Paula Jelly, since I left the RAF has been incredible and I'm so grateful for the opportunities I've been given.

"I am very proud of my team, who are all extremely passionate about their work, and equally deserving of this accolade. I feel so honoured to serve the veteran community and give back to those who have given so selflessly to their country."
Paula Jelly, Regional Lead Veterans Services, nominated Lyndsay for the award in recognition of her hard work.
Paula said:
"I am absolutely delighted for Lyndsay on her fantastic achievement. Lyndsay is a role model to others, and her passion and enthusiasm is contagious.

"She represents the ethos of the whole team with her commitment and this recognition at a national level is so well deserved.

"We are extremely lucky to have Lyndsay leading the team, I am confident that those accessing our service will continue to have a positive experience, and look forward to seeing it grow and develop. Well done Lyndsay, you've done us all proud!"
See Lyndsay's win and the rest of the 2020 BJN Awards ceremony on demand by visiting their website:  www.bjnawards.co.uk