Jan 2021 YourVoice@healthwatch Urgent and Emergency Care
Jan 2021 YourVoice@healthwatch Urgent and Emergency Care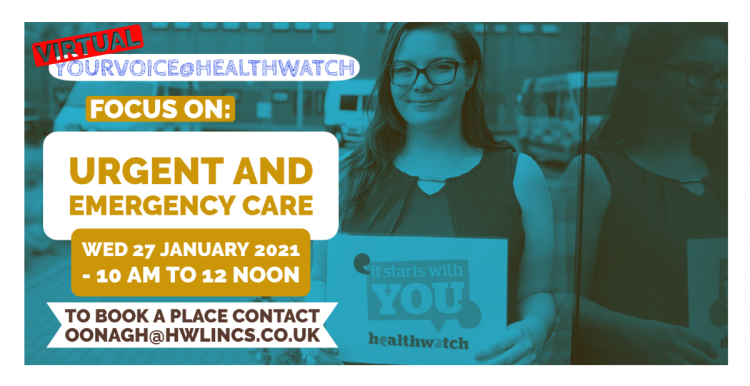 Jan 2021 YourVoice@healthwatch Urgent and Emergency Care
Held 4 times per year in January, April, July and October, YourVoice@healthwatch is a Public Engagement Event.  Each Event has a unique theme to raise public awareness and give information around an issue or concern in health and care.  It is usually a face to face Event, but following COVID guidelines, we are currently holding the Event via a virtual platform (Zoom / Microsoft Teams), so you can join us from the comfort of your own home.  Each Event has a Panel who come from a background of health and care.  There is an opportunity for members of the public to send in their questions / concerns or issues that they would like answered by the Panel prior to the Event which will be raised on your behalf by the Chair (a HWLincs Trustee). Where answers cannot be given on the day, we will endeavour to follow them up after the Event.
This time we welcomed the following professionals onto the Panel:
Jessica Mather       DHU 111 Non Clinical Continuous Quality Improvement (CQI) and Directory of Services Lead
Kerry Collins          DHU111 Clinical Development Manager
Micheal Brunton     Lincolnshire Community Hospital Service (LCHS) Urgent Care Services Manager
Maggie Brett           DHU 111 Pathways Continuous Quality Improvement (CQI) and Directory of Services Lead (Clinical)
Ruth Cumbers        United Lincolnshire Hospital Trust (ULHT) Programme Director for Urgent Care.
You may find the following documents useful for background reading on the theme of Urgent and Emergency Care.  Feel free to make contact with us if after having read these documents, you have any questions or concerns that you would like to bring to our attention.
For more information about future YourVoice@healthwatch dates / themes and how to get involved contact Oonagh Quinn Engagement Officer Oonagh@hwlincs.co.uk or telephone 01205 890892 extn 303