Healthwatch England - We need to focus on inequalities to address NHS waiting list
The current hospital backlog has had a huge impact on many patients waiting for treatment. But if you are a woman, on a low income or from an ethnic minority background, you are more likely to have a worse experience of waiting for care.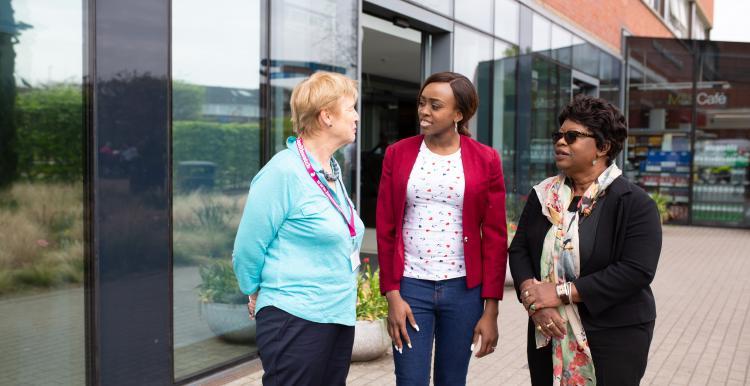 Background    
With NHS wait lists currently at over 6.3 million people, we wanted to understand the stories behind those waiting for care.   
Last year, research by the King's Fund showed that the NHS backlog was disproportionately shouldered by people in poorer areas. Our own research highlighted people were unhappy with the communications they received and the lack of support the NHS gave them to help with things like pain relief or accessing physiotherapy.    
These concerns were not experienced equally by all, and findings were particularly stark among disabled people, those with long term health conditions, and those on lower incomes.   
Our new poll of 1,000 adults on NHS waiting lists shows that a poorer experience of waiting can be linked to factors such as wealth, disability, level of education, gender or ethnicity.
What people told us   
Impact on people from poorer households  
This group has been hit hardest when it comes to how long they wait for treatment and the impact this has on their mental health and wellbeing and ability to work:        
Over half (54%) of respondents from lower income householders said they were either still waiting for NHS treatment or had to wait over four months before getting hospital treatment. This compares to 34% of people from higher income households. 

Fewer people on lower incomes (44%) reported being given a clear point of contact with the NHS. This compares to 55% of people from higher income households.     

Nearly twice as many people from poorer households (52%) said long waits affected their mental health when compared to responses from more affluent households (28%).   

And 39% of people from lower income households said long waits affected their ability to work, compared to 29% from richer households.   
Impact on ethnic minorities  
Our poll suggests there are ethnic differences when it comes to how easy people find to get hospital treatment. And when we combine them with factors, such as wealth and education, the disparities are far starker.  
Over half of ethnic minority respondents (57%) faced a delay to or cancellation of hospital treatment compared to 42% of white British respondents.  

Ethnic minority respondents from lower income households were hit hardest by having to wait longer for care. These individuals were almost twice as likely to report having faced a delay to or a cancellation of their treatment compared to white British respondents with higher wealth (63% vs 38%).

Just half of the respondents (53%) from ethnic minority backgrounds with lower education felt well-informed about their treatment. This compared to 67% of white British people with higher education. 
Impact on disabled people  
Our poll suggests that disabled people have had a worse experience of waiting for treatment than those who identified as non-disabled.  Out of 20% of respondents who identified themselves as disabled, two-thirds (66%) waited more than four months for treatment, compared to 44% of those who are identified as non-disabled.   
Just over half of disabled respondents felt communications from the NHS about their care or treatment were clear and easy to understand compared to non-disabled respondents (57% vs 70%).  
Long waits also affect disabled people more than non-disabled people:  
Ability to work (55% vs 29%).  

Ability to carry out household tasks (51% vs 33%).

Ability to socialise (49% vs 31%).  

Physical fitness (60% vs 40%).
Impact on women  
Women are 28% more likely to wait over four months for NHS treatment than men (54% vs 42%).  

More women are also likely to experience adverse impacts of long waits compared to men. Most strikingly, women are 50% more likely to say that long waits impacted their ability to socialise than men (41% vs 28%).  

38% of respondents who identified as female said that waiting for treatment  impacted on their ability to work, compared to male respondents (29%).  
Behind every number is a personal story  
Louise Ansari, national director Healthwatch England said:   
"The NHS faces enormous pressures to reduce a record elective care waiting list. But it's important to remember that behind every number is someone's story. The impact on those waiting for care can, in some situations, cause harm.    

We need a greater understanding of people's individual experiences to focus support in the right places at the right time. We need to limit the damage by enabling people to tell services when their symptoms worsen. And we need better communication and administration from hospital trusts to help ensure people don't feel forgotten or don't have treatment unavoidably cancelled.   

People know the NHS is working hard to get to them as soon as possible, and the Government has invested extra money, but it's how we manage the backlog that matters."  
Barbara's story  
Barbara is a cancer survivor and uses a wheelchair. Last year Barbara's operation for an ileal conduit was cancelled with a four-weeks' notice. She later had the surgery scheduled for this summer, although she was initially told she required urgent treatment. Barbara said: "I've been living in constant pain for over a year. I can't do anything because of the pain and my urostomy keeps swelling up huge. I haven't received any help from the hospital. My GP was helpful, sending letters on my behalf and prescribing antibiotics and painkillers. I've also been struggling mentally, getting anxious when I have to go to toilet."  
Being ill for so long has had a knock-on effect on Barbara's finances and with the rising cost of energy, she can't afford to put the heating on when she feels cold. "I'm having to buy heat pads, things for pain, cushions and shaped pillows. I pay for taxis to go to my GP practice nearly every week to put samples in. As they are not hospital appointments, I don't qualify for patient transport. I feel it's unfair to be left in pain for so long. I feel like I'm expected to go private, something which I can't afford, being disabled."  
Our recommendations   
Provide personalised care   
NHSE should work with patient organisations to improve My Planned Care and implement the Good Communication with Patients guidance.  
Everyone on the waiting list has an individual story behind their condition and communication needs. That is why personalised care is essential for the millions who have been waiting for care, in pain and often feeling forgotten over the past few years.   
My Planned Care is currently limited in the type of advice it provides people, with the level of personalisation only going as far as someone's clinical condition.  
When working to improve this platform, and the broader information and advice provided by trusts, the NHS needs to better understand people's experiences. This might include asking:  
Why a patient might have rejected a new appointment date following a cancellation.

Why they might have turned down the offer for transport to an alternative hospital for care.

Why they haven't heard from the patient following recent contact.  
Extend the amount of time statutory sick can be paid to people who can't work because of NHS delays.  
As people wait and some struggle to work, it's essential they know they have a safety net. The Department of Health and Social Care, the Department for Work and Pensions and NHSE must ensure long waits, delays and cancellations of hospital treatment do not further exacerbate income inequalities and poor health outcomes.  
Currently, you can claim Statutory Sick Pay (SSP) for up to 28 weeks if you're too ill to work. And though NHS data at the time of publication shows median wait times of 12 weeks, it doesn't factor in people waiting for GP referrals. Additionally, five per cent of people wait for hospital treatment for over a year. It is those people who will need more support if they can't work due to delays at every point of their treatment. 
* Data based on a poll of 1,000 adults based in England carried out by GuineaPig in February 2022.