Lincolnshire NHS staff and volunteers recognised in the Team LPFT Values Awards
NHS staff and volunteers who are a making difference to the lives of people with mental health problems, learning disabilities and autism in Lincolnshire will be recognised for their hard work at an awards ceremony in July.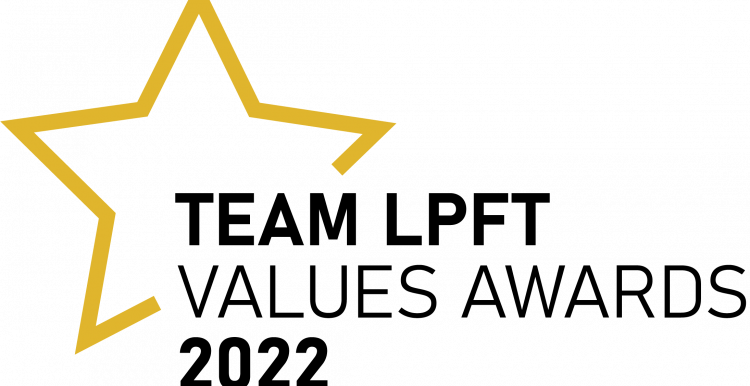 Thirty individuals and teams across the county have been shortlisted for Lincolnshire Partnership NHS Foundation Trust's 2022 Team LPFT Values Awards, after more than 200 submissions were made by staff, service users and carers.
A judging panel comprising staff, governors, service user and carer representatives, and senior officials, had a difficult job whittling down the nominations, with so many dedicated individuals and teams deserving of recognition.
The winners will be announced at the celebration event held on Thursday 14 July 2022 at Lincolnshire Showground, hosted by BBC Radio Lincolnshire's Sean Dunderdale.
Increasing demand for mental health services and the pressures of COVID-19 on the NHS have made for another very challenging year for services across the Trust, making the awards and showing gratitude more important than ever.
The 2022 awards will be a welcome return to a face-to-face event after last year's ceremony was held online due to the pandemic. The Trust looks forward to inviting shortlisted individuals and teams, as well as LPFT leaders, staff governors and special guests.
Trust Chair, Kevin Lockyer, believes the awards acknowledge the team spirit and values which are evident throughout the organisation, even in challenging times. Kevin said:
"All the finalists and everyone who received a nomination should feel proud of their achievements.

"I am grateful to everyone who took the time and effort to put forward nominations. The response was fantastic and a great reflection of the hard work and dedication shown by staff and volunteers across the Trust.

"A number of our services and staff have also received national accolades this year, highlighting the strengths and care of the services they provide for the people of Lincolnshire."
This year's awards are being sponsored by a number of local businesses which are generously supporting the event, including Mayden, Pipework Services Ltd, VINCI, Browne Jacobson, Civica Prescribing, and Lindum.
Chris Eldridge, Director of Operations at Mayden, said:
"We are delighted to be part of an event that recognises the valuable work carried out by NHS services. The Covid pandemic has had an enormous impact on us all, and we have witnessed first-hand the lengths that NHS staff and volunteers have gone to to keep services running and support service users and patients.

"We are so grateful to everyone in the NHS who is doing such important work under such pressure. We are looking forward to celebrating these wonderful individuals face-to-face in July."