People's Service User Experiences - May 2019
This report created by Healthwatch Lincolnshire provides a monthly summary report for all patient, carer and service user experiences received during May 2019 where 133 experiences have been shared.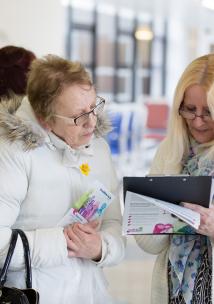 We would like to remind stakeholders that our communications with you emanate from February 2013, when Sir Francis Keogh produced his review of the Mid Staffordshire Enquiry. Within this report Keogh cited a number of failings of the system and under the reforms, local Healthwatch is intended to be the local consumer voice with a key role in influencing local services.  In both Winterbourne and Mid Staffs the patient voice and the voices of others within the system were not acted upon causing patient suffering and harm, as a local Healthwatch we must continue to raise and challenge the issues raised with us.
This report has been produced by Healthwatch Lincolnshire (HWL) to highlight the health and care experiences shared with us for the period 1 to 31 May 2019 where 133 comments raised.
The following highlights some of the themes.  Predominately the communication challenges faced by patients and professionals in delivering an effective service was highlighted.  Specifically this report see challenges between GP surgeries and patients and between hospitals and GP surgeries (especially when this relates to the follow up of diagnostic results) as being pivotal to dissatisfaction.  These challenges are stressful for all adding, time and anxiety to the process of receiving perceived good and timely care.
We also heard in this report the challenges around cancer services and particularly after care.  Remembering that the diagnosis and treatment for cancer is traumatic enough for the individual but that it more often than not also impact on families and carers.  In this month our concerns were such that we raised an escalation paper in respect of this topic.
Access to appointments was as always, raised as an area of concern for patients, with increasing housing developments and reducing numbers of primary and acute services, some feel services are at threat of diminishing too far.
We must also remember that the report highlights and feeds back positive aspects of the health care system, citing quality of care as being something that our population value.
Healthwatch Lincolnshire Report of Patient, Carer, Service User Experiences - May19