Healthwatch Lincolnshire Annual Report 2020- 2021
What a year for local Health and Care Watchdog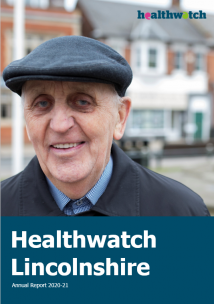 The work of Healthwatch Lincolnshire to support and listen to local people became more crucial than during the pandemic and we want to share our work over the last year. It gives us great pleasure to introduce the Healthwatch Lincolnshire Annual Report for 2020-2021.
Helping people get good quality care
People tell us it can be hard to access support when they need it most. In 2020-21 we used the experiences that people share with us to help:
We supported 1,069 people during the COVID-19 pandemic to share their experiences of health and social care and access information directly with our Information Signposting Officer.
Highlight the challenges of 114 people who have either had thoughts of suicide, family and friends who have been directly impacted by someone ending their life by suicide and professionals who have come into contact with suicidal people. Consistently we heard the need for easier access and availability of service provision in a coordinated way, at the right time.
Healthwatch Lincolnshire shared the Lincolnshire voice national as part of joint work with Healthwatch England and the British Red Cross to understand people's experiences of hospital discharge.
Using people's experiences to inform future services
With growing pressure on the care services, big questions need to be answered to ensure everybody gets the support they need. We continue to engage with Lincolnshire people to help the NHS understand what they can do make future services better. 
In April 2020, we invited the public to tell us how the COVID-19 pandemic was affecting them, both in terms of accessing healthcare services and personally with their emotional and mental health needs.  The results were shared locally and nationally with healthcare organisations which helped them better understand the impact COVID-19 was having on people. Over this time, we had 3,049 responses.
Throughout this year despite the pandemic and lack of face-to-face engagement our Engagement Officer continued to work with the Gypsy and Traveller community, wheelchair users, Young Voices, Arthritis Support groups and facilitated opportunities to work with groups supporting people living with sensory loss including Guide Dogs, Blind Societies, Assistance Dogs and other local groups.
In November 2020, we were invited by Healthwatch England to present to the wider Healthwatch Network at the "Developing Rapid Response:  community insight in a crisis Engagement Event". We were able to highlight our work in taking the YourVoice@healthwatch Event from a face to face event to a digital arena.
We are supported by 42 volunteers who help us find out what people think is working and what people would like to improve to services in their communities, they have adapted and changed they way they support us during the pandemic.
For further information contact:
For general HWLincs enquiries please call 07436 582000
For health and care signposting support please call 07436 582001 or alternatively email info@healthwatchlincolnshire.co.uk or for further information or enquiries about the charity HWLincs please contact enquiries@hwlincs.co.uk