Healthwatch Lincolnshire Annual Plan 2021- 2022
Our Annual Plan outlines our plans and what we want to achieve in our 2021-22 contract year.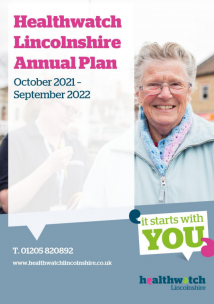 As the statutory independent champion for social care, health service users and the general public, Healthwatch Lincolnshire has a key role in helping to make sure that the planning and delivery of services take into consideration the needs and wishes of the people who use them. We also gather people's views of the services they use and share that information with the organisations that plan and provide services.
Over the next year we aim to:
Continue to influence commissioners and providers on how they engage and involve the public voice
Increase the volume and quality of insights received from the public and service users in order to deepen our understanding of their experiences
Ensure that the work of Healthwatch Lincolnshire is transparent, effective and sustainable within the contract allocation
Dean Odell Healthwatch Lincolnshire Contact Coordinator said
"I am pleased to share with you the Healthwatch Lincolnshire Annual Plan for 2021/2022 which will shape the direction of our efforts to provide residents of Lincolnshire an opportunity to have their voices heard regarding Health and Social Care services. The impact of our work is crucial to inform change. We want to keep you involved in our work."
Our activity over the next year focusses around two main themes – Integrated of services and COVID-19 recovery
Integrated Services – services users experiences of social care and health working together in Lincolnshire
Integration is about everyone, patients' carers, communities, and workforce. Crucial to its success will be listening to patient experiences. Healthwatch is here to ensure that representative patient voice is fully considered or heard in service commissioning and development.
COVID-19 Recovery
Moving into our new contract year it is important that we acknowledge the impact the COVID-19 pandemic is having in Lincolnshire. We want to gather views from the public on COVID-19 recovery to support and influence service changes to help improve patient experience and outcomes.
We are continually hearing from residents of Lincolnshire about problems with accessing Primary Care, GPs, Dentists and Mental Health Services, as well as long hospital waits for treatment and appointments.  We also want to hear more about peoples experiences of Social Care in Lincolnshire.
The aims of these priorities are:
Identifying what works
What needs improving?
What needs are not being met?
Gaps in service provision