Dentistry Quick Poll Results Report
Our latest findings show many people continue to struggle to access NHS dental treatment.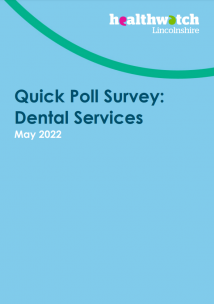 Introduction
Access to NHS dental services is a national issue. Certainly, over the past year, concerns around NHS dental services throughout Lincolnshire has been repeatedly raised to us. Lack of availability of NHS practices taking new patients and struggles accessing NHS dental treatment during the pandemic are key concerns.
We heard from 236 people and 45% had no NHS Dentist in Lincolnshire
Over the past year, our Information and Signposting team have repeatedly heard from individuals who have contacted 10+ dentists to try to register with an NHS practice with no success. However, patients are able to register with many of these practices as private patients.
"I have been unable to get to see a dentist at all. Even being referred by 111."
Individuals sought help from a range of different services including ringing an NHS helpline such as 111, others were left with no other choice but to pay for private treatment, whilst others remained in pain due to not being able to get treatment.
"Had chronic toothache and abscess after tooth broke off. No NHS dentist available, cannot afford private treatment. Self-medicating with paracetamol and ibuprofen."
Our stance Both ourselves and Healthwatch England have been very vocal on the lack of NHS dentistry both in Lincolnshire and nationally.
To read the full report published by Healthwatch England in response to concerns around dental services, click on the link below:
Healthwatch England's National Response to Dentistry Concerns
In line with Healthwatch England we have made some recommendations for NHS dentistry.
Our recommendations
Use the reform of commissioning to tackle the crises of access and affordability
Greater clarity in the information about NHS dentistry
Explore the possibilities of using dental practices to promote a broader wellbeing
We believe that action in four areas needs to be taken to address the issues that people have shared with Healthwatch.
A more rapid and radical reform of the way dentistry is commissioned and provided – recognising that the current arrangements do not meet the needs of many people who cannot access NHS dental care in a timely way and acknowledge issues faced by the dental profession.
Using the reform of commissioning to tackle the twin crises of access and affordability – ensuring that people are not excluded from dental services because of lack of provision locally or difficultly in meeting charges. Currently, there are significant inequalities that must be removed. New arrangements should be based on maximising access to NHS dental services, with particular emphasis on reducing inequalities.
Greater clarity in the information about NHS dentistry – improving information, including online, so that people have a clear picture of where and how they can access services, and the charges they will need to pay. Particularly, the reform must address dentistry 'registration' which causes significant confusion for both services and patients.
Look at using dental practices to support people's general health – harnessing opportunities, such as the development of Primary Care Networks, to link oral health to other key issues such as weight management and smoking cessation.
Find out more about our findings