So What? - Update on the key issues you shared with us over the last 12 months
Update on the key issues you shared with us over the last 12 months - July 2022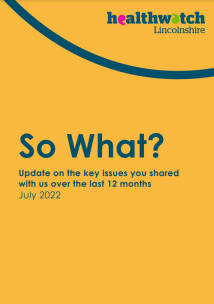 Between October 2020 and September 2021, 1279 patient experiences were shared with our Information Signposting Team.
The four most frequent services commented on were:
GP access
Dental access
Hospital services
and the COVID-19 vaccination programme.
Additionally, communication regardless of the service was also an issue.
This report discussed what you told us about these services, how we and providers responded to your concerns. It also highlights the importance of sharing your feedback on health and social care services with us and the impact it has on services. It also shows how Healthwatch supports you by improving your experience of local health and care services.
Therefore, if you would like to share your experience, good or bad, of health and care services you can either fill in our form online or contact us today.
A download link to the report is below. If you need the report in another format or would like to discuss anything, please email info@healthwatchlincolnshire.co.uk or call 01205 820 892.
So What? - Update on the key issues you shared with us over the last 12 months